Please note that the information on these Mathea pages has been augmented and revised based on the documents and pictures supplied by TB in Budapest in December 2015.
IN MEDZANY: (a small village in the Presov district of what is now Slovakia.)

Johannes Mattia b. 1798(1814?) m. ca 1830 Anna Maczko (1814- )
....Andrej..3/1/1830-1880 (50 years)Baptism doc.
....Anna....before 5/19/1833-2/23/1870 m 11/9/1853 Andras Hopko
........Istvan Hopko (6/30/1859-8/9/1860)
........Istvan Hopko (1/10/1865-1/21/1865)
........Anna Hopko (4/15/1866- )Hopko data found here.
....Maria...2/12/1833-1/30/1838 (5 years)
....Juraj...9/11/1835-3/10/1838 (2 1/2 years)
....Maria...3/18/1838-
....Matej...1/31/1840-(a girl)
....Barbora..1/6/1842-6/28/1845 (3 1/2 years)
....Juraj....3/8/1844-
....Barbora.6/14/1846-2/6/1847 (7 mos.)


The data above was researched in Presov in 1997 for HAJ, but by now it has been supplemented by other sources.(2/9/2017.)

View HAJ's photos of Presov here.


Presov is the current name of the town in Slovakia which, before the end of WWI, was known as Eperjes (strawberries) and was part of the Austro-Hungarian Empire. The name was changed in the 1920 Treaty of Trianon. It is in a region known as Subcarpathian Rus (southern slope of the Carpathians) which is identified with a group of people known as Rus or Ruthenians who have shared a common ethnicity and language for many centuries. Many sites do not mention the existence of this group or region, perhaps because of a particular national point of view and indeed it has never actually existed as a country (except for one day in 1938), but there is some evidence that suggests that the Mathea's and especially the Haburay's nationality and language may have been Rusyan.

There is also strong evidence that the Matheas spoke and wrote Hungarian and probably spoke other languages as well. In view of the frequent political disruptions in eastern Europe in the last few centuries one should be cautious about assigning nationality and ethnicity to peoples in this area. For the Matheas Slovakian and Hungarian seem to be the strongest points of identification. Of course we all realize that concepts like nationality, ethnicity, acculturation and even race are not clearly defined and quickly fall to pieces upon close analysis.

From the above data we can see a 17 year record of hardship and determination. Anna bore nine children with Jan: 3 boys and 6 girls. Three of their children died before their fifth birthday, two of them within 38 days in 1838. Eight days after the death of Juraj, the second to die, Anna gave birth to a girl, whom she named Maria after her first Maria who had just died 46 days earlier. Their seventh child, Barbora, survived only 3 1/2 years. Fifteen months before the first Barbora died Anna bore a baby boy whom they named Juraj after the first Juraj who had died six years earlier. A year after Barbora's death Anna bore another baby girl, her last child, whom she named Barbora. Thus while three children died: Maria, Juraj and Barbora, Jan and Anna, through persistence, still had children named Maria, Juraj and Barbora who lived.

Our line descends through Andrej, the first child of Jan and Anna:
here.


IN PRESOV:

Andrej Mateja 3/1/1830-1880(?) m 10/23/1860 Maria Malinak 4/14/1841-2/15/1890 Baptism doc.
....Karol Michael, Sr. 9/12/1861-1/20/1933 m 2/24/1900 Maria Nagy
........Maria 1900-1977 m Gyula Neubauer Abay 8/15/1891-8/29/1978
........Karol Michael, Jr. 1/13/1902-7/19/1961
........Elemer 1906-2/15/1915
....Jan 6/14/1863 - 6/15/1863 (1 day)
....Albert Ferdinand 9/17/1864 - 1/14/1950 (86 years) See the record of his birth.
....Maria Zofia 5/10/1866 - 11/25/1868 (2 1/2 years)
....Joannes 6/12/1868 - 1/29/1873 (4 years, 7 months)
....Frantisek 2/10/1870 - 3/10/1870 (1 month)
....Koloman Jozef 2/7/1871 - 5/22/1873 (2 years, 3months)
....Gyula 5/7/1873 - 6/8/1883 (10 years, 1 month)
....Hermina 4/12/1875 - 4/25/1878 (3 years)



Here again we see hardship and determination with only two children surviving beyond ten years: Karol Michal and Albert Ferdinand. We also see the (unsuccessful) determination to have a child named Jan/Johannes, which in this case we know is the name of Andrej's father.

On May 6 1887 much of the town of Eperjes was destroyed by fire. This event may have precipitated the emigration of Albert to America and of Karoly to Budapest. There is also one document that reports that Andrej also went to America but that is not corroborated by any other evidence. Here is a picture of the town of Eperjes after the fire. Note that the walls in the town still stand but all the roofs have been destroyed.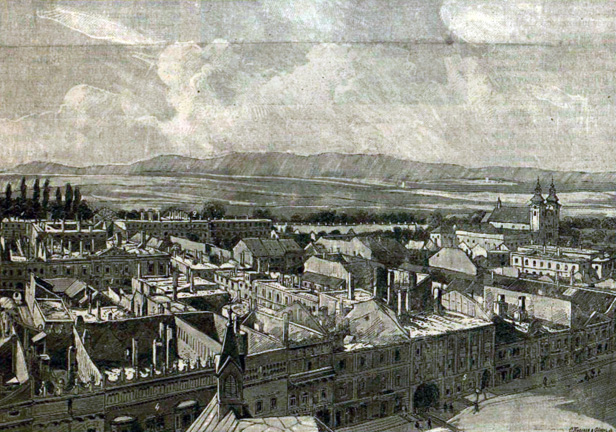 Julia Mathea Jensen had one or more cousins as she grew up in Brooklyn, as HFJ reported in his note. One of them was Marie Shearer (Sp?), who was Dan Sedlack's niece. Others may have been the children of her mother's siblings, about whom we have no information at this time. Marie Shearer was the person who introduced Julia to Harry at a National Guard Revue at the 105th Field Artillery Armory on Clermont Avenue between Myrtle and Dekalb. (I know this from Marie Shearer herself in a conversation with her and Juia, perhaps in the 60s before Julia's death.(4/2017)