CHARLES JENSEN'S TICKET
FOR THE FURST BISMARCK 1891
---
---
This is the lower left quadrant of the reverse side of the ticket.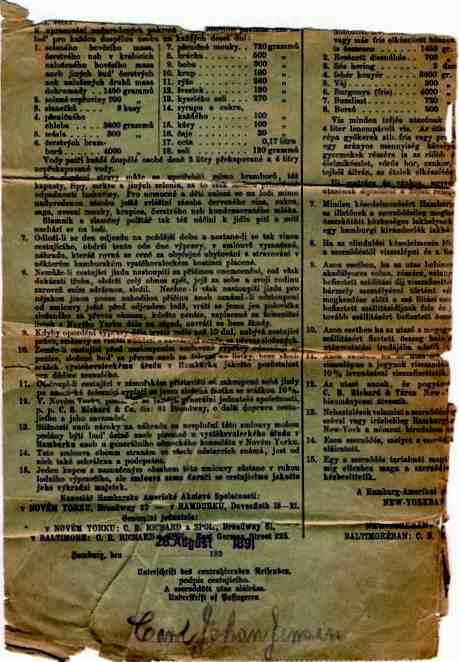 ---
On August 27 1891 Carl Jensen left Hamburg on the SS Furst Bismarck with Captain Albers in command and arrived in New York Harbor on (probably) September 2 or 3, 1891. Recently launched, this was the second westward crossing for the Furst Bismarck and very probably an attempt was made on this crossing to set a new speed record. For a brief time the Furst Bismarck did hold the speed record for transatlantic crossing which was then about 6 days, measured from Cobh to New York. This is the ticket for passage which he bought for 120 DM. The rubber stamp: "Aerztlich Untersucht" indicates that a medical examination was performed. His age is recorded as 36. He signed his name "Carl Johan Jensen."

The Furst Bismarck is mentioned on the HapagLloyd website where you will find (if you search ("suchen") for it) the following note: "1891: Die "Fürst Bismarck" der Hapag schafft die Überfahrt nach New York in nur 6 Tagen, 2 Stunden und 44 Minuten und ist damit schnellstes Schiff auf dieser Strecke." That is, "1891: Hapag's Furst Bismarck made the crossing to New York in only 6 days, 2 hours, and 44 minutes and became the fastest ship on this route."
---
---