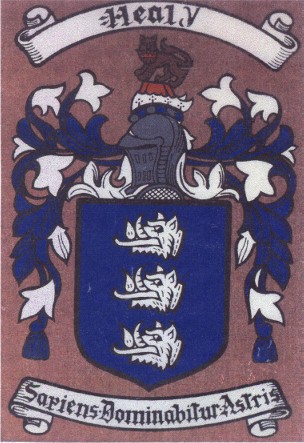 A HEALY ARMS AND CREST
---
Allen sent me this last year. Note that I have labelled it "a" Healy arms, not "the" Healy arms. As you may know, heraldic arms were (and still are) granted to individuals and were not valid for descendants. A child had to have his parents' arms "differenced," i.e. made slightly different, often by combining in some way the arms of both parents on the new blazon, or "shield" in a completely new grant. So to be excruciatingly correct we can't say that this is "our" coat of arms, but it's fun to see it anyway and I was very pleased when Allen sent it.

For those who may be interested, as I am, I have given below the heraldic description of these arms.
---


ORIGIN: Ireland
MOTTO: Sapiens Dominabitur Astris
Translation: (Help me on this:)

Sapiens I take to be the present participle of a verb meaning to understand?. The present participial form, in English, is understanding or being wise and functions as an adjective.

Dominabitur is the third person singular future indicative passive of to dominate or govern. Thus: he, she or it will be governed.

Astris is dative or ablative plural of stars, heavens or firmament.

Putting it all together in a literal translation we get: Being wise, he will be governed by the stars.

A free translation might give us: The wise sailor will steer by the stars. or Knowing the stars is to be guided by them. or The philosopher will be limited only by the cosmos.

BLAZON OF ARMS: Azure three boars' heads couped in pale argent.


Translation: The background colour azure (blue) signifies Loyalty and Truth. The boar is considered to have been endowed with Courage and Fertility.
Couped: Cut off in a straight line.
In pale: The boars heads are arranged in a verticle array or column in the center of the shield.
Argent: They are silver (or white) in color.

CREST: On a chapeau gules turned up ermine a lion statant guardant proper ducally gorged or.
Translation:
On a: standing on the top of the hat
Chapeau gules: a red hat.
Turned up Ermine: inside white fur flecked with black, visible when the bottom of the hat is turned up.
A lion: The lion symbolizes Majesty.
Statant: Standing on four legs.
Guardant: side view, but head and face turned toward the viewer, mouth open, snarling.
Proper: natural lion color.
Ducally gorged or: Wearing a gold duke's crown about the neck.

---
Feedback: BACK HOME