THE CASSIDY FAMILY
---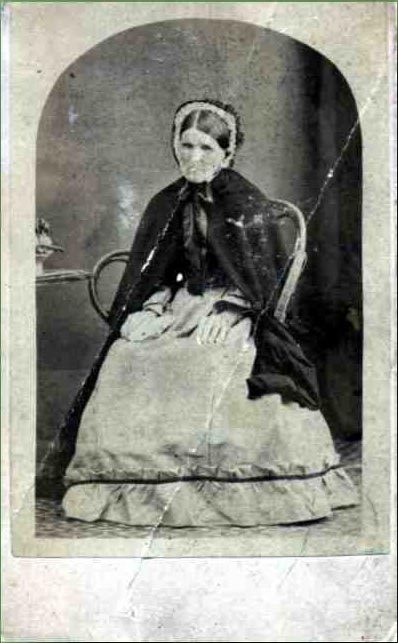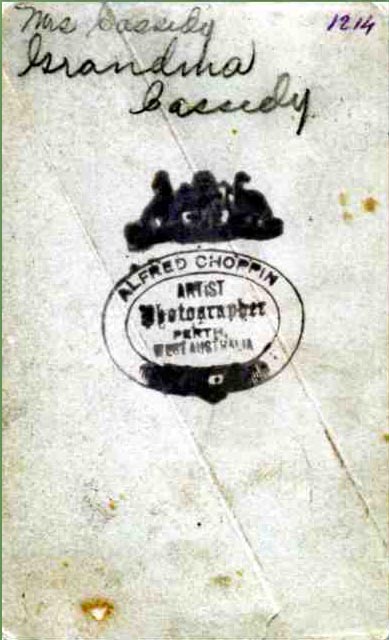 The cart de visite above came down to us through Bill Kelliher, who probably got it from his mother, Mamie Cassidy, who probably got it from her father, William Cassidy, who was a son of the woman pictured. The photograph was taken by Alfred Choppin (b1846 - dOct 1902) in or around Perth, Western Australia.
Per the Wiki article cited above, Choppin and his brother, William, were arrested in Manchester, England in 1865, sentenced to ten and twenty years respectively and transported as prisoners to Perth, arriving in Fremantle on the Norwood in July 1867. In February 1869 it was found that William had been falsely accused and he was pardoned. He first became a confectioner and then in 1872 he started a photography business which lasted until bankruptcy in June 1877.
So we can safely conclude that the picture was taken between 1872 and June 1877 and is correctly labeled. Since family tradition tells us William Cassidy was already in the US at this time, the picture must have been carried by someone or mailed to the US. We can also conclude that the picture could not possibly (as I had at first thought) be of an older Ellen Fuller Kelliher, who also may have gone to Australia with two of her sons, but not until after about 1890.
Western Australia, formerly a "free settlement", adopted penal transportation in 1851 to resolve a long-standing labor shortage. Until the massive influx of free immigrants during the Australian gold rushes of the 1850s, the settler population was dominated by convicts and their descendants but there was also the pensioner guards, who were retired military who were given some land and were tasked with certain duties relating to the convicts.
Transportation from Britain/Ireland officially ended in 1868 although it had become uncommon several years earlier. One expert asserts that no women were transported to Western Australia so Grandma Cassidy is more likely to have come with a pensioner guard family, with a gold rush family or some other arrangement.
Thus Grandma Cassidy may have been in Western Australia in 1872 or earlier. It's also possible that she did not arrive until 1877.
Family tradition has it that William Cassidy came to America when he was 14 (1861) from Tralee(?) Mayo(?) Australia(?). One plausible scenario has William leaving Ireland when his mother went to Western Australia around 1860.
Unable to find work he volunteered to serve with the Union Army in a New York outfit. (I have checked an index of soldiers who served in the Civil War and found about 30 New York units in which a William Cassidy was listed. It is not clear whether further research in this direction would yield sufficient data to identify our William Cassidy.) A Civil War sword was, lamentably, thrown out when the Barbieris moved out of the Lenox Road house in the 50's.

Some time after returning from the war William became a fireman in New York City, working in the "Second Municipal" company (or, perhaps less likely, in the "Second Marine" unit on a fireboat in New York Harbor).
Information below was partly drawn from a 1900 census record. We know from a reference in correspondence that Ellen was Mamie's Aunt, but we're not sure whether she was from the Cassidy or the O'Brien side. Mamie was a suffragette. We are currently not aware of any surviving Cassidy relatives but they're out there somewhere.


---
"Grandfather" Cassidy (Irl) m Grandmother Cassidy (Irl>Perth)